Fosselyngen 82
Milwaukee, Wisconsin
---
Fossegrimen 82 and Lyngblomsten 454 has merged since the writing of these histories. They are now known as Fosselyngen 82.
Fossegrimen 82
In October of 1908, Fossegrimen Lodge 82 was organized in Milwaukee, Wisconsin, The name was chosen based on a story of "Fossegrimen", the musical troll. "Fosse" is a verb referring to a cascading or pouring of water. "Grimen" is the fiddle-playing supernatural being (or troll) that dwells in falls. Who suggested the name is not known.

A sister lodge, Lyngblomsten Lodge 29, Daughters of Norway, was organized at about the same time. This was the beginning of our 80 years of brotherhood and sisterhood in this fraternal organization. In 1951 Lyngblomsten became a part of Sons of Norway as Lodge 454.

Ladies were admitted into the Fossegrimen Lodge during the mid-twenties. During this period and each Christmas for many years, both lodges visited the Scandinavian Old Peoples' Home, entertaining the residents with program and song. Homemade Norwegian cookies and coffee were served and each resident was presented a gift. In the 1950's when the home was expanded, each of the lodges furnished one room in the new addition.

Prior to 1940 all lodge meetings had been conducted in Norwegian, but during that year the language was changed to English.

Fossegrimen has hosted the District Convention in 1915, 1936, and 1948.

1950 saw, in conjunction with Lyngblomsten Lodge, the opening of a dining hall called "Norway House" at the State Fair Park in Milwaukee. Many members put in long, hard hours in the dining hall, profits from which were eventually used to purchase an old movie theater. In November of 1959 the dream of having a lodge home of their own was realized when the renovated theater was dedicated as "NORWAY HOUSE". It has taken a lot of manpower and money to keep it up. Thanks to a great army of volunteers from both lodges, Norway House is operating in the black. It is a wonderful feeling.

In 1964, the two Sons of Norway lodges hosted the Fifth District Golden Convention. That year the Norwegian training ship, the "Christian Radich" came to Milwaukee. The two lodges entertained the officers and crew of that ship at the dining hall in State Fair Park.

Fossegrimen Lodge has sponsored in past years "Norsk Aften", an all Norwegian evening with an ethnic dinner and entertainment. Other events are a family picnic in August; "Husfliden" in October, a Scandinavian evening involving all Scandinavian lodges in and around Milwaukee; in December, a Children's Christmas Party and an Adult Christmas Party. Members attending the adult party donate money for the veterans at the V.A. Hospital at Wood, Wisconsin. The climax of the year is the New Year's Eve Party.

Then in January the Installation of Officers starts the new year. We now have about 487 members. The lodge has sponsored Norwegian classes for beginning and advanced students for 20 years. In November 1988 Fossegrimen celebrated its 80th anniversary, with International President Thor Bryn and Fifth District President Clare Almquist as speakers.
Lyngblomsten 454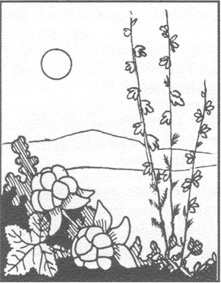 Lyngblomsten Lodge 29, Daughters of Norway, was instituted in the fall of 1908. Through the years there has been a close association with Sons of Norway lodge, Fossegrimen 82, formed about the same time.

In 1914 Lyngblomsten took part in the Norwegian commemoration of the 100th Anniversary of Norway's Independence with a parade and celebration. Together with other Norwegian-American groups we helped sponsor a reception and banquet in 1939 honoring Crown Prince Olav and Crown Princess Martha of Norway, with many state and city officials attending.

For many years we visited the Scandinavian Old People's Home at Christmas, providing refreshments, entertainment and gifts. When the Home expanded, we furnished one ofthe rooms. Always ready to help others, our members joined in working for Finnish Relief, then for Norway Relief after the invasion of Norway in 1940. Many members worked day and night collecting clothing and other materials to ship to Norway, hoping to ease the hardships of those living in the "beloved homeland".
Up to 1940 all the meetings had been conducted in Norwegian, but then English became the official language. Ten years later, the Daughters of Norway merged with Sons of Norway. Our executive officers traveled to Minneapolis to have the charter drawn up, and we became Lyngblomsten 454.

The "Norway House Dining Hall" was opened at State Fair Park in 1950, operated by members of both Lyngblomsten and Fossegrimen, with all proceeds going toward attaining a dream of owning our own lodge home some day. Finally, in November of 1959 we celebrated the Grand Opening of "Norway House", at 2212 W. Greenfield, a great day for all of us.

The Norway House Ladies Auxiliary was organized in 1962 for the purpose of raising funds to purchase equipment for the kitchen and other areas of the lodge home. The two lodges had continued the dining hall at the State Fair, and in 1964 entertained the officers and crew from the Christian Radich training sailship at the park.

Through the years we have hosted many groups: in the mid 50's "Olav's Guttene", boys choir from Oslo; Norwegian skaters attending the World Champion Speed Skating Meet in 1970; Olympic bicycle racing teams touring the United States in 1980; in 1985 the Oppsal Girls Choir and skiing champions from Norway who were here for the Birkebeiner.

The Daughters of Norway had hosted two Grand Lodge Conventions, one in 1914 when delegates were housed in members' homes and in 1939. Then in 1964 we co-hosted the Fifth District Golden Convention along with Fossegrimen.

Both lodges celebrated our 65th Anniversaries in 1973, the high point being the burning of the mortgage on Norway House. Several of our functions are hostedjointly on a regular basis: festive Syttende Mai and Leif Erikson dinner dances; torsk suppers; installation of officers; bowling league; language classes and the Lykkeringen Dancers.
Around the 1930's a Norwegian dance group had been formed known as the "Leikkeringen Dovre", a forerunner of the one now under the direction of Lyngblomsten's Mike Rupinski.
There had been drill teams in 1914 and in the mid-20s. In 1979 one was organized under Dagney Flynn's direction which is much in demand for installation of officers, parades, social and ethnic events in the lodge and community. Craft classes were also introduced about this time: hardanger, woodcarving, stitchery, rosemaling, bun ad instructions, ornament and cookie making.

Great effort is made to share our heritage with those in the community. We have three groups who go into the schools, to mini-fairs and festivals with a "show and tell" program, sharing customs and costumes, songs and dances, trolls and dolls, Christmas ornaments and cookies. We donated two filmstrips to the Museum's Audio Visual Department for use in the schools.

There are other ways we have participated in community affairs. Inger Holle, a member, presented a lesson on preparing Faarikaal on public TV during an Ethnic Heritage series. Every year we have a booth at the Holiday Folk Fair and were first to be the featured nationality. We have set up displays in the Governor's mansion. In our involvement with BOLD, an organization for the blind, we have been volunteer ski guides. Members have marched in the City of Festivals Parade carrying a Norwegian banner. More recently the Sons of Norway lodges joined forces with the other Scandinavian groups to form the Nordic Council, which is sponsoring a Nordic Fest in July 1988. Some of our members belong to the Scandinavian Chorus formed in 1984.

Beginning in 1984 a special emphasis has been placed on activities for the younger people ... skiing, skating, toboggoning, sleigh rides, canoe trips, pizza baking, trip to Stoughton, summer baseball/picnic, climaxed by an ethnic Christmas party.

An Open House was held in both 1984 and 1985 to inform the public as to what our Lodge and Sons of Norway is all about, Le. culture, programs, travel, foods, insurance, bunads, geneology, dances, and activities. This proved successful in gaining new members and gave our members a sense of pride in our organization.

It has been satisfying over the years when a president has received the "President of the Year Award". In 1978 Gladys Mahalek was so honored, and in 1982 Dagney Flynn In 1986 not only did our president Leif Nygaard receive the award, but the lodge was honored by being named the Fifth District Lodge of the Year.

Lyngblomsten has been very active in Fifth District activities, and has had three members serve on the Board. In 1972 Esther Hansen was elected as a director, followed by a two year term as Vice President, the first and only woman to serve in this capacity until 1986: Esther was also the recipient of the King Olav Medal of Honor for her dedicated service to the community and Sons of Norway. In 1982 Dagney Flynn was elected to the Fifth District Board and served as director for four years. Leif Nygaard was chosen as District Youth Director in June 1988.

There is much, much more to our history, and it is still in the making. As Dagney Flynn says, "Eighty years of busy, busy takes a lot of telling". Here's to another eighty years!