2021 Barnebirkie Week in Hayward
The Barnebirkie in Hayward, WI that the District 5 Sons of Norway usually attends with cookies and volunteers looked very different this year of COVID. The Birkie Foundation took great care to protect the participants. The races were held north of town at the Korte Stadium area. The Barnebirkie was held over two days, February 25-26, so kids could be spread out over time and space with no official start time.
Some kids chose a virtual ski event at home. There were a total of 529 participants in this children's ski event which was about half of their usual numbers. No spectators were allowed and one parent could ski with kids or be at the finish line.
District 5 used our budgeted amount to sponsor a Clif Z Bar for the children's registration packet as well as include camp info on a bookmark and a postcard about Sons of Norway. We were listed on their website as a sponsor and had a slot in their virtual Expo site with information about Masse Moro. We hope next year we can be there in person with the cookie tent and volunteers.
Audrey Severson
Sports and Recreation Director
District 5 awarded the Shellie Milford Spirit of the Birkie Award - 2018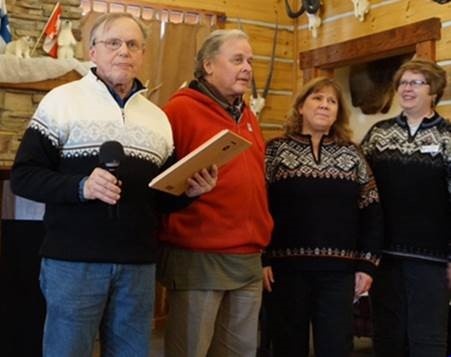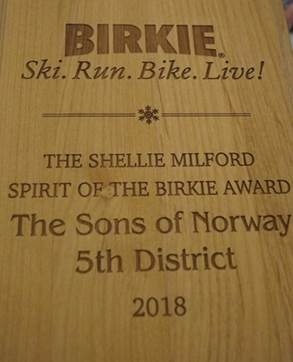 District 5 earned the Shellie Milford Spirit of the Birkie Award for over 30 years of service to the Foundation. Members from many District 5 Lodges assist with this worthy event each year. Their jobs include: baking thousands of cookies, registering children for the Barnebirke ski event, serving cookies to young skiers and their families, and helping to move materials across Hayward as needed.
In addition, other members meet and greet classic skiers at the Expo Center, and they distribute Sons of Norway materials. Cookies are donated to guests, but being frugal Norwegians, there is a charge for a good cup of coffee! Other members are involved in planning and preparing a luncheon for Birke volunteers and for the Ski Patrol staff.
We are proud to represent District 5 and the Sons of Norway each year as the Nordic lifestyle is celebrated in the Midwest. The American Birkebeiner has had participants from 49 states and 36 countries over the course of its operation.