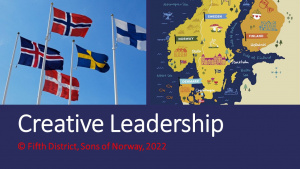 Creative Leadership Course
Creative Leadership Course Overview Week 1
Dana Kelly helps us understand SWOT analysis, which is a business technique for analyzing any organization in an attempt to make it even better and to respond to the challenges of the world around us. SWOT means Strengths, Weaknesses, Opportunities, and Threats. Jim Herman facilitated a discussion on a lodge's vision and mission, so we can determine where we are and where we want to be heading.
Watch Creative Leadership Overview - Week 1 at : (53:17)
https://www.screencast.com/t/EWEibDjirVC4
SofN D5 Creative Leadership - Week 2 discussion
Course participants share their experiences applying SWOT analysis to their lodge. This was homework from week 1. Vikings of the Smokies four course participants met together to analyze their lodge's Strengths, Weaknesses, Opportunities and Threats. One participant went to her lodge's board meeting and had nine members of their lodge board do the SWOT analysis together. Watch this session to learn about the practical application of the Week 1 lecture.
Watch Creative Leadership Week 2 Discussion: (14:27)
https://www.screencast.com/t/MZa5yfpNdA
SofN D5 Creative Leadership - Week 2
Jim Herman discusses "What does my lodge look like" and talks about some of the differences between small and large lodges.
Mike Palecek shares ideas about analyzing member participation and then gives valuable tips on using delegation to strengthen your lodge and make it more sustainable.
Watch Creative Leadership - Week 2: (1:31:35)
https://www.screencast.com/t/aBnKgMnWswBG
Creative Leadership - Week 3
Learn how to analyze your lodge's demographics and apply this knowledge to the 15-10-5 rule for organizational involvement. Then, you can better analyze your membership roster, to target specific individuals to try to engage further to strengthen your lodge. The new breed of volunteers for the 21st century and how to use small tasks to engage volunteers were also discussed.
Watch Creative Leadership - Week 3:
https://www.screencast.com/t/lEtXFV3OZpQ
Creative Leadership - Week 4
Jim Herman talked about specific skills that a leader should have, including being mission-focused, being organizationally skilled, cheerleading, coaching, and team building. He then talked about leadership skills that team members wanted their leaders to have and how leaders need to work to always keep honing their skills. Mike Palecek discussed ways to identify potential leaders and suggested ways to recruit your members to be more engaged in lodge leadership. Corey Olson delved into ways to develop leaders, what servant leadership is, the idea of energy drainers, and the importance of succession planning.
Watch Creative Leadership Week 4 at:
https://www.screencast.com/t/X7RbU2azpN
Creative Leadership - Week 5
In Week 5, Dana Kelly discussed coaching as a people-leadership skill. Dana's planning presentation included an extensive discussion on the use
of PERT charts as a planning tool (see 30:00-56:03). Mike Palecek talked about preferred methods of communication and the four stages of team
development (forming, storming, norming, and performing)(see 56:24-1:13:00). Dana then talked about inclusion and diversity, with
a special focus on including those with neurological special needs. Corey Olson concluded with some really great tips on handling conflict
resolution including a discussion of the Thomas-Killman model. (1:52:51)
Watch Creative Leadership Week 5 at:
https://www.screencast.com/t/Jb4P4VxuOxkM
Creative Leadership - Week 6
In Week 6, Jim Herman shared strategic planning ideas including the use of surveys to "take the lodge's temperature," ways to make all lodge
members stakeholders, and how to establish SMART goals. Mike recapped the course by discussing communication techniques, being a flexible
leader as a way to get fresh ideas, and how lodges can use D5 as a resource to make lodge programs even better. We also discussed using
other lodge newsletters as an idea generator and how to network with key SofN leaders throughout the district.
Watch Creative Leadership Week 6 at:
https://www.screencast.com/t/O19OQ8HWBEh
(1:39:04)
Creative Leadership course
The Sons of Norway District 5 newest Zoom course, Creative Leadership will start with sessions offered on Saturday, February 5 (9:00-10:30 AM CT/10:00-11:30 ET) The course will be Six weeks long.

Weeks 1-2 will give you ideas on how to analyze your lodge's strengths and weaknesses, and to consider opportunities for growth, but also pitfalls along the way. You will learn to think about lodges comparable to you, and your similarities and differences, and the all-important need to rely on lodges volunteers.

Week 3 will focus on new ways to envision your current and potential volunteers. You will gain insight into how to develop hesitant on-the-sideline members into more engaged volunteers.

Week 4 will be show you how to accelerate your lodge's volunteerism program by matching needed the tasks you need getting done with your lodge volunteer's skills, and rewarding volunteers in meaningful ways. Ideas for developing lodge officers and succession planning will be discussed.

Week 5 will be cover developing a strong leadership team, by coaching, planning, communicating, using diversity and inclusion, and how to managing conflict resolution.

Week 6 will give you ideas for developing a strategic plan for your lodge, including knowing your member's opinions, making all lodge members "stakeholders," establishing attainable goals, using good communication, and being flexible.

Faculty: Mike Palecek, leadership trainer, (Nordlyset-Racine WI, president); Dana Kelly, executive director of the Norwegian-American Genealogy Center (Mandt-Stoughton WI, member); Jim Herman, medical school dean (Edvard Grieg-Cincinnati OH, president); Corey Olson, project manager (Norsk Valley-Appleton WI, treasurer).

No longer excepting registration - Class Attendance has been capped.
The recordings of this course will also be made available online for anyone to access at the D5 website, usually about two weeks after the end of each week's session.
District 5 Zone Training Seminar
From International Vice President Mark Agerter
District 5 Zone Training Seminar
January 23, 2021

2020 YE membership report
*Positive membership gains 22 out of last 26 months. April was only down month in 2020!
*As of December, 2020 -total membership 52,021. First time solidly over 50K in years – since July
*As recently as September 2018 was 47,975 a 4,046 member swing in just 2 years!
*Members owning financial products at YE2020 was 32.1% - also highest in years
*Kudos to D5 for substantial membership gains in 2020 – 523 net new members! A 12.1% gain.

2020 Recruitment Goals
Congratulations to these D5 lodges for achieving their recruitment goals for 2020:
5-168, Valhall in Rockford (IL)
5-378, Nordkap in Detroit (MI)
5-472, Polar Star in Aurora (IL)
5-490, Sonja Henie in Lansing (MI)
5-609, Myrmarken in Marshfield (WI)
5-610, Askeladden in Kalamazoo (MI)
5-662, Arctic Circle in Cleveland/Akron/Canton (OH)
5-677, Vikings of the Smokies in Knoxville (TN)
5-689, Shawnee Skogen in Carbondale (IL)

2020 Int Board Goals Results – All 2020 goals have been achieved, a first in a long time.
*1500 new insurance members – Actual – 3167
*$2.725M in new life premiums – Actual – $3.148M
*$10M in new annuity premiums – Actual – 10.301M
*6,300 new members – Actual – 7815
*$240K in new Foundation funds – Actual – 386,640

Corporate Matters and Governance Committee
*Several referenda have been advanced and passed to assist lodge operations during covid and any potential future disruptions to lodge business:
1 - To allow local lodges to meet via electronic means and outlining a process with which to hold virtual elections.
2 - To allow district boards to hold referenda via electronic means in order to transact business during times like we are going throughwhere in-person meetings are not possible.
3 - To allow local lodge boards to hold referenda via electronic means and outlining uniform procedures to be used.
*Other key issues addressed by the board in the past year include:
1 – An update to the Nominating Committee sections of the Constitution to conform with the guidelines and procedures that are already in place.
2 – To establish youth protection measures for all youth-involved activities.
3 – To define the process, whereby the International Board is able to appoint directors, in order to fill gaps in expertise as needed.
4 – To update the bylaws template to include dissolution and distribution of assets and compliance clauses. Special note – all lodges are asked to review their current bylaws to see if they include dissolution, distribution and compliance clauses and to revise as necessary, using the online template to make sure that they are in place. If the online template is not followed, any bylaw changes submitted will not be approved.

I want to share some notes from a SON leadership seminar I attended some 18 years ago!

Issues many of our lodges face:
a) Lack of cooperation
b) Lack of desire to change
c) Tied to old meeting/governance culture
d) Lack of visibility
e) Lack of leadership
f) Lack of growth
Sound familiar? Some things don't change or if they do, they can change very slowly!!

And from that same seminar – Are there any differences from then to now?:
6 ideas for stronger lodges and increased membership
a) Create an alternative order of ceremonies – less business, more social – board transacts business, membership approves. Actually implemented in many lodges today!
b) Retain past due members – personal phone calls work well, much better than emails. Personal contact always the best way to keep in touch – many lodges using phone trees during Covid
c) Leadership training to develop quality leaders – make sure prospective leaders know what is expected of them – keep surprises to a minimum. Convention leadership seminars and district training, like today, are being done
d) Create family membership and family-friendly programs. Done with ongoing updates!
e) Provide financial incentive to purchase insurance. We now have dues imbedded in several financial products. Other incentives include excellent financial products at very competitive prices!
f) Update website – include online dues renewal, chat rooms, adopt-a-school program. Online renewals, social media, and a very updated website all in play.

Harold Bohrmann, chair of Catholic Financial Life, made a wonderful presentation to the International Board a couple of years ago. Some of his main points were:
1. Fraternals need to change what and how we do business and how we reach new members
2. Co-ops are embraced by all – fraternal benefit companies, like SON, are insurance co-ops
3. Millennials are our friends, they make us change and force us to modernize
4. Volunteerism is big with millennials – plenty of opportunities for volunteerism in SON
5. Fraternals bring integrity, connection, trust and value to our communities, but must get faster, better, stronger
6. Fraternals must embrace the future
a) Old can become new again i.e. virtual meetings
b) Distrust of big Wall Street firms works to our advantage – we have a personal edge
c) Millennials love us once they meet us – we do things they like
d) In a divisive society people are looking for ways to connect – especially postpandemic as happened after the 1918 pandemic!
e) Fraternals are well positioned but need to work together like never before His final point:
THE FUTURE IS IN OUR HANDS – WE JUST HAVE TO GET OUR MESSAGE IN FRONT OF PEOPLE!

Scandinavian Hour – Just as a "good of the order" note, I would like to put in a plug for "The Scandinavian Hour" radio broadcast that comes out of Washington State. This program has been on the air since 1959, led by Doug Warne of Seattle and his late partner Ron Olsen. Doug is retiring and a young, but very capable member of Bothell Lodge in Bothell WA, Seth Tufteland, is taking over and hoping to continue the tradition. The show airs on 1150AM KKNW and can be streamed live online at 1150kknw.com/listen. The programs will also be available via podcast in the near future.

Parting thoughts
*New building occupancy went well, no major disruptions – about 50% staff continue to work at home due to Covid concerns
*David Crabbe's special Leadership Resource video series have been very well received
*Latest Leadership Resource just out Tuesday– be sure to check it out
*Good things are happening at HQ. The mood is great and our dedicated staff and executives are doing a great job.