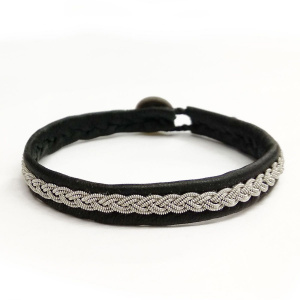 Beginning Sami Bracelet Class
This
one-day class
is offered on
Saturday, August 6, 202
2.
It will only take one day to complete the bracelet – you will go home with a completed bracelet.
The class goes from
9:00 AM – 4PM
Held at
Sons of Norway Mandt Lodge - 317 Page Street, Stoughton, Wisconsin 53589.
The fee is
$65.00
Sons of Norway Members and Seniors (age 55 & over)
$80.00 for
Non-members
.
Registration form
and
payment due: July 15, 2022
.
Class fee covers instruction, documents and use of the tools needed to complete your bracelet.
The class fee
does not include the kit needed to assemble the bracelet.
The
cost of the kit is $45.00
and
will include
all the supplies needed to complete the project including pewter thread, leather, needle, sinew, button.
The
class fee does cover
the use of the tools you will need to complete the bracelet
.
Payment for the supplies kit should be made payable to:
Creations Inspired by Coastal Norway (CICN).
If you have any questions, contact
coastalnorway@gmail.com
or
Sandy Fleming Email: sandrakelly62@gmail.com , or Nancy Odalen Email: naodalen@charter.net .