ADULT HERITAGE WEEKEND UPDATE!
Hei hei allesammen!
Velkommen til Spring Grove--the countdown begins soon! Only ten days until we greet you in our lovely community for the D5 Sons of Norway/Giants of the Earth Heritage Center ADULT HERITAGE WEEKEND!
Our registration spreadsheet is now finalized, and we will deposit your checks by this Wednesday.
Thanks to Cheryl Wille-Schlesser for her oversight in arranging many of these critical components, securing some grant funding to defray costs, and staying in such good contact with local lodges. We are over-the-moon thrilled by your registration and participation. We look forward to heartily greeting you and spending the weekend with you.
As you may recall from the registration materials, there are various activities being offered, and we now need to get a solid head count on some of these activities in order to have enough materials on hand, and to finalize details.
Attached below is more information on Connie Aiello's stamping class sessions! Please note the additional fees.
Also, please know that local author Jim Skree can no longer join us, and the "Red River Girl" exhibit was dismounted and put into storage over at the Houston County Historical Society. In lieu of his presentation, we will instead graciously welcome local author and historian Elaine Hegg and "The Story of Inga." Hegg, whose deep curiosity and subsequent research led to the publication of a book called "Death in a One-Room Country School" is summarized here by a local journalist:
"For Elaine (Myhre) Hegg, the story of what happened in December 1921 in a one-room school has always been part of her family lore...
She recalls as a child her dad, Clarence "Edwin" Myhre, telling the tragic story of what happened to his teacher. The land where the country schoolhouse sat was sold by Axel Dille, Elaine's great-great grandfather. She says, "Little did he know that it would be the scene of the one of the most horrific crimes ever committed in northeastern Iowa."
The Bergen School, where the murder of Inga Magnusson took place, was located one mile from the settlement called Bee, which lay on the Minnesota-Iowa border. The school was in Allamakee County, four miles northwest of Dorchester, 20 miles north of Waukon and seven miles south of Spring Grove, MN.
Please stay healthy and excited for our upcoming adventures in SE Minnesota! We are looking forward to a beautiful weekend of fall colors, Uff Da Festing, learning, playing, and connecting. Thank you for supporting this unique and enriching programming!
If you have any follow-up questions, please write back at this address or contact our Community Outreach Coordinator Rachel Storlie directly at this email address: outreach@giantsoftheearth.org or phone number 507-458-1255. She will get back to you ASAP!
~Rachel, Cheryl, and the Giants staff, Board, and volunteers
Nordic News "Virtual Radio Show"
Tune in at 6:20 PM (Central); 7:20 PM (Eastern) every Tuesday.

By computer: https://gotomeet.me/SofN-D5
By phone: 646-749-3112 (access code: 509-077-557)
By iPhone, iPad, or Android tablet/phone: download the GoToMeeting app from the Apple or Google Play Store. Launch the app and enter the meeting code: SofN-D5
Nordic News "Virtual Radio Show"
7/21/2020 - Erie Canal: Immigrant Gateway to the West - (Daryl Wunrow -
Fosselyngen-Milwaukee WI)
Nordic News "Virtual Radio Show"
7/14/2020 - Viking Ship burial (Debra Kraft
- Norkap-Detroit MI)
Nordic News "Virtual Radio Show"
7/7/2020 - Norskadalen Norwegian-American Cultural Center - Lori Dubczek
Nordic News "Virtual Radio Show"
6/30/2020 – Norsk Museum , Norway IL (David Johnson, Cleng Peerson-Norway,
IL)
Nordic News
6/23/2020 – Norwegian Tales: The Art of Storytelling (Joy Bashara -
Grønnvik-Green Bay WI)
Nordic News "Virtual Radio Show"
6/16/2020 – Joy of Norwegian Woodcarving (James Miller - Valkyrien-Woodville WI)
Nordic News "Virtual Radio Show"
6/9/20 - Trip to Western Norway and Oslo (Jim Secora)
Vasa Park Celebrates 65 years
VASA PARK CELEBRATES 65 YEARS
JOIN US ON SUNDAY JULY 22, 2018 TO
CELEBRATE THIS IMPORTANT OCCASION
Everyone is invited and we hope that you will share this information with your members (if a lodge or organization), your friends and family and any other interested parties. It is our goal to fill the Park for this special day, ALL ARE WELCOME
Admission is Free for All
Park opens at 10:30 a.m.
Church Service starts promptly at 11:00
Herring Breakfast will be available starting at 11:30 a.m.(The breakfast cost is $10 per person.Please make your reservation by sending your name and contact information to jlseife@comcast.net.)
Cash Bar will be open at 12 noon.Water and pop will also be available.
Hamburgers and hotdogs will be available for sale by our Boy Scout friends from St. Charles starting at noon.
You are encouraged to bring your own picnic baskets if you choose.
We have plenty of picnic tables but it would be a good idea to bring your own chairs.
Planned activities:

Games for all (hopefully a Kubb game or two)
Dancing
Raising of the Maypole
Entertainment
Campfire
Fot further information and updates:
www.vasaparkil.com
and Facebook
This is NOT Scandinavian Festival. That will still be on

September 9, 2018

. This is a day of celebration and being together.
Please make reservations for the Herring Breakfast prepared by David Anthonsen and company. The cost is $10. You can call Judy at 630.883.8619 or e-mail at jlseife@comcast.net.
Norwegian Ambassador Aas to Speak in Michigan
Gerald R. Ford Presidential Library & Museum
303 Pearl St NW, Grand Rapids, MI 49504

June 12 from 7:00pm - 8:15pm

Attendance is open to all.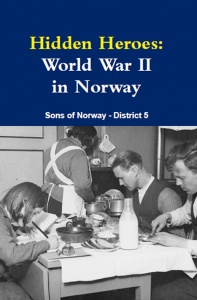 Masse Moro Youth Heritage Camp Fundraiser
Masse Moro is Sons of Norway's District 5 Norwegian Heritage youth summer camp. As a "tussen takk" for your donation, you can get the book "The Hero Next Door: World War II in Norway." These twenty eyewitness accounts told from the viewpoint of children and young adults were originally collected from Sons of Norway members by past District 5 Cultural Director, Jean Bittner.