2021 Barnebirkie Week in Hayward
This year's Birkie Week in Hayward, WI will look very different.
For the adults, it will be hosted over five days from Wednesday, February 24 though Sunday, February 28 for the different races and skill levels. They will have smaller waves of participants, socially distanced spacing, and spread out start times. The looped course will be from the Trailhead in Cable, WI and back. There will not be a finish line in Hayward. There is even a virtual race option for those who do not want to travel.

For the children's Barnebirkie skiing, it will be spread over the two days of Thursday, February 25 and Friday, February 26 from 11 am-2 pm at the Korte Stadium on Hwy OO north of Hayward. It will be an open track style event with no official start time. It will still feel like an exciting place to ski or families can choose a virtual option also near their home trails. Parents choose a 30 minute time slot for their children to begin and may even ski with their children. No spectators are allowed at any 2021 events. A limited number of volunteers are needed at this venue; therefore, Sons of Norway District 5 will not be providing cookies or volunteers. The D-5 Board had budgeted money for the event which will now be used as a sponsorship to provide a Clif Z-Bar for the children as a treat in their Registration Bag. The Expo booths where District 5 had provided our cookies and coffee in the past will only be an online presentation. Our sponsorship will enable us to have a virtual booth online about the Sons of Norway and Masse Moro Camp. This is the shape of the COVID year of the Barnebirkie participation for the Sons of Norway District 5 in 2021.

Audrey Severson
Sports and Recreation Director
District Five
The following message was received from Ronda Twoerk.
Good Day, Sons of Norway Workers and Lodges,
Thank you so very much for volunteering for the American Birkebeiner Ski Foundation's events. Your cookie donations and feet on the ground have made the Greatest Show on Snow possible.
Over the past month, we have been planning and preparing for what was a most-amazing weekend of events. We could not have done it without your support. Year after year I try to come up with ways to express my gratitude, for the time and efforts you put forth in volunteering while we host the world for North America's largest cross-country ski race, as well as so many other events that impact and excite all participants from the youngest skiers to elite athletes. You help make it happen, and saying "Thank You" just never seems a big enough word. So, I will share with you an essay from one of my favorite authors. Some may have received this from me before, and I apologize for the duplication. But, to me, the following essay captures the genuine, and true feelings I have for you - our volunteers.
GRATITUDE, by Author Michael Perry
I cannot anticipate the state of our hearts as we meet in this moment, but I choose for my subject a word I owe more study whatever may transpire after I type it: gratitude.
Gratitude. Such a lovely word. Humble and warm. Humble, because it's not a word you use if you think you did everything yourself. Humble, because no matter how hard you did work at whatever it is you're grateful for, you know—and more importantly, acknowledge—there was some luck involved. Warm, because gratitude is not compatible with a cold soul. Warm, because gratitude radiates, like the gentle rays of a heart-sized sun. Gratitude goes softly out and does good works—which generate more gratitude.
Gratitude is renewable energy.
Gratitude, because to offer anything less would be to ignore all privilege. The privilege of existence. The privilege of health. The privilege of privilege. And now we are back at humility—or ought to be.
Gratitude, because the world is awash with the sour surf of opposing sentiments.
Gratitude, for those who show us the same.
Gratitude, even in grumpiness. Which is to say I am not talking all hosannas, hugs, and puppies here, I am talking about perspective and preponderance and relativity and a sideways glance into the cosmic mirror, where behind me I spy millions of souls who would give all they own for just one of my disappointing Tuesdays.
Gratitude as my moral duty.
Gratitude, because it's so easy. A note. A word. You don't even have to talk.
Gratitude can be soundless. You can speak it with your eyes. Share it with a smile. Weave it into your works. You can kneel down and offer it up. Gratitude. A triple-syllabic salutation to the six directions, whichever way you're pointing. The echoes go on and on. The echoes are gratitude returning. There is the idea among psychologists that gratitude can be cultivated. Put it out there and it comes back to you.
Gratitude as a practice. As an intentional act.
Gratitude in the form of reflection. A quiet moment. A look back.
Gratitude, not as obligation but as celebration.
Gratitude, with our loved ones in mind. The ones who suffer our ingratitudes with grace, and that grace yet another reason for gratitude. Grace: cousin and catalyst to gratitude.
Gratitude, because as this year–or this day, or this hour, or this moment–draws to a close I am reminded it was another year granted, not guaranteed, and therefore not taken for granted.
Gratitude, no matter the season.
Gratitude. So it is with the deepest gratitude, I truly Thank YOU. As always, should you have comments or feedback from our events, please feel free to reach out and let me know.
Until we meet again, Happy Trails!
Yours truly,
Ronda Tworek
Volunteer & Participant Services Director American Birkebeiner Ski Foundation
www.birkie.com/volunteer
ronda.tworek@birkie.com
District 5 awarded the Shellie Milford Spirit of the Birkie Award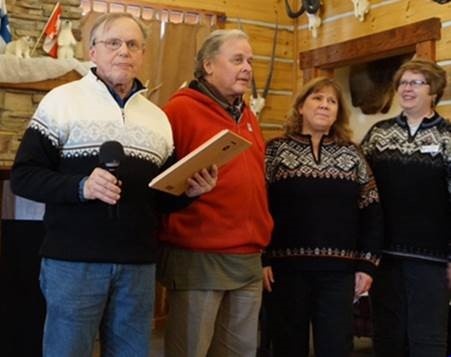 District 5 earned the Shellie Milford Spirit of the Birkie Award for over 30 years of service to the Foundation. Members from many District 5 Lodges assist with this worthy event each year. Their jobs include: baking thousands of cookies, registering children for the Barnebirke ski event, serving cookies to young skiers and their families, and helping to move materials across Hayward as needed.
In addition, other members meet and greet classic skiers at the Expo Center, and they distribute Sons of Norway materials. Cookies are donated to guests, but being frugal Norwegians, there is a charge for a good cup of coffee! Other members are involved in planning and preparing a luncheon for Birke volunteers and for the Ski Patrol staff.
We are proud to represent District 5 and the Sons of Norway each year as the Nordic lifestyle is celebrated in the Midwest. The American Birkebeiner has had participants from 49 states and 36 countries over the course of its operation.
Respectfully submitted,

Cheryl Wille-Schlesser
District 5 Youth Director