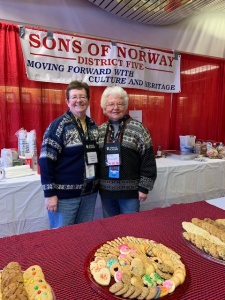 2020 Birkie Week Results
It was quite a week in Hayward last week!
The Barnebirkie totaled 859 registrants. Due to the chilly temperature of 15 degrees some children did not report. We greeted 627 young skiers on race day. There were 232 youth who came as part of local school groups. Young competitors picked up their bibs, ties, buffs, and stocking caps, and the excitement in their eyes was evident! Sixteen children registered on race day.
Although the supply of bibs, hats, and buffs was completely exhausted, latecomers received hats and bibs from previous years. At the end of the racecourse stood Smokey the Bear and a lumberjack to greet the children prior to their visit to the Celebration Tent.
1) The Prince Haakon Race, the fastest growing race in numbers, had 665 participants.
2) Barkiebirkie racers numbered 95. In this race, competitors are tied to their dogs who pull them along the Main Street course.
3) The Junior Birkie included 309 competitors. This course is quite challenging as the participants ski the International Bridge twice!
4) Birkie-6,249, people raced on Saturday, including our District President Andy Johnsen who came to the Finish Line after a grueling duration of 7.5 hours on the course. Forty-seven states were represented in this race.
5) The Kortelopet race had 2,824 skiers.
6) In the Giant Ski, 34 teams competed, totaling 204 participants.
*No numbers were available from the Adaptive Ski race.

District 5 was well represented with workers from many lodges and our efforts were led by Idun Lodge members Mary Bennett and Asta Blanchar who greeted skiers at the EXPO venue. There was an abundance of cookies this year, breaking the record of recent years. Our Lodges are to be commended for their efforts. Several lodges also sent monetary donations which will be deposited in the D5 Scholarship account.

A special thank you goes out to Robin Fossum, District 5 International Director, who coordinated the action at the Celebration Tent. She was accompanied by many Dovre Lodge members and their friends who also joined our ranks for the day. One of our Masse Moro campers was also a helper. Audrey and Clair Severson from Valkyrien Lodge, as well as Eugene Johnson and Montaya Harter from Wergeland Lodge, greeted the children and helped them to select the best cookie! David Hermundson from Løven Lodge was also an assistant at the tent. A surprise worker was former Norse Valley Lodge member, John Gierke, who helped in many capacities on Thursday. Vennelag member Arlene Watrud-Krueger worked the registration computers. Sharon Anderson, Hild Petre, and Lucy Ghastin from Idun Lodge, in tandem with Judy Ghastin from Norse Valley Lodge, prepared a hot soup luncheon for the workers. Sandy Olson, from Valkyrien Lodge, was on-site multiple days talking to youth and their families about the best kept secret in District 5-Masse Moro. This venue was the perfect place to promote the Nordic lifestyle.

Our members made a huge impact in helping the Fifth District with this project. Not only did our members teach others about the Sons of Norway organization and what is offered to its members, but the good will they shared was immeasurable. Thank you one and all for your assistance. This event would not be possible without your service.

PS If I have overlooked anyone's volunteerism, please make me aware so I can include your name in the final report to the Fifth District Board of Directors.
Cheryl Wille-Schlesser
District 5 Sports and Recreation Director
rogrcher@mhtc.net
608-219-4464
----------------------------------------------------



The following message was received from Ronda Twoerk.
Good Day, Sons of Norway Workers and Lodges,
Thank you so very much for volunteering for the American Birkebeiner Ski Foundation's events. Your cookie donations and feet on the ground have made the Greatest Show on Snow possible.
Over the past month, we have been planning and preparing for what was a most-amazing weekend of events. We could not have done it without your support. Year after year I try to come up with ways to express my gratitude, for the time and efforts you put forth in volunteering while we host the world for North America's largest cross-country ski race, as well as so many other events that impact and excite all participants from the youngest skiers to elite athletes. You help make it happen, and saying "Thank You" just never seems a big enough word. So, I will share with you an essay from one of my favorite authors. Some may have received this from me before, and I apologize for the duplication. But, to me, the following essay captures the genuine, and true feelings I have for you - our volunteers.
GRATITUDE, by Author Michael Perry
I cannot anticipate the state of our hearts as we meet in this moment, but I choose for my subject a word I owe more study whatever may transpire after I type it: gratitude.
Gratitude. Such a lovely word. Humble and warm. Humble, because it's not a word you use if you think you did everything yourself. Humble, because no matter how hard you did work at whatever it is you're grateful for, you know—and more importantly, acknowledge—there was some luck involved. Warm, because gratitude is not compatible with a cold soul. Warm, because gratitude radiates, like the gentle rays of a heart-sized sun. Gratitude goes softly out and does good works—which generate more gratitude.
Gratitude is renewable energy.
Gratitude, because to offer anything less would be to ignore all privilege. The privilege of existence. The privilege of health. The privilege of privilege. And now we are back at humility—or ought to be.
Gratitude, because the world is awash with the sour surf of opposing sentiments.
Gratitude, for those who show us the same.
Gratitude, even in grumpiness. Which is to say I am not talking all hosannas, hugs, and puppies here, I am talking about perspective and preponderance and relativity and a sideways glance into the cosmic mirror, where behind me I spy millions of souls who would give all they own for just one of my disappointing Tuesdays.
Gratitude as my moral duty.
Gratitude, because it's so easy. A note. A word. You don't even have to talk.
Gratitude can be soundless. You can speak it with your eyes. Share it with a smile. Weave it into your works. You can kneel down and offer it up. Gratitude. A triple-syllabic salutation to the six directions, whichever way you're pointing. The echoes go on and on. The echoes are gratitude returning. There is the idea among psychologists that gratitude can be cultivated. Put it out there and it comes back to you.
Gratitude as a practice. As an intentional act.
Gratitude in the form of reflection. A quiet moment. A look back.
Gratitude, not as obligation but as celebration.
Gratitude, with our loved ones in mind. The ones who suffer our ingratitudes with grace, and that grace yet another reason for gratitude. Grace: cousin and catalyst to gratitude.
Gratitude, because as this year–or this day, or this hour, or this moment–draws to a close I am reminded it was another year granted, not guaranteed, and therefore not taken for granted.
Gratitude, no matter the season.
Gratitude. So it is with the deepest gratitude, I truly Thank YOU. As always, should you have comments or feedback from our events, please feel free to reach out and let me know.
Until we meet again, Happy Trails!
Yours truly,
Ronda Tworek
Volunteer & Participant Services Director American Birkebeiner Ski Foundation
www.birkie.com/volunteer
ronda.tworek@birkie.com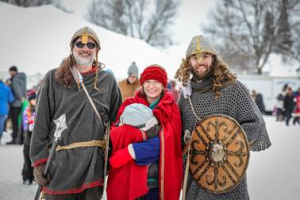 Inga, Baby Haakon Haakonssen, and the Birkebeiner Warriors
Photo Courtesy of 2020 ©American Birkebeiner® Ski Foundation
Hei alle sammen og tusen takk for hjelpen oss
(Hello everyone and thank you for helping us.).
Members who are planning to help at the Barnebirkie next Thursday, February 20th, are reminded of an organizational meeting that will be held Wednesday evening at the Steakhouse and Lodge, 15860 T Bone Lane, Hayward, WI 54843. This is not a mandatory meeting, but it is a great way to kick-off this event. I will try to address any concerns you may have. I will be bringing credentials for those who need them. Last minute questions about this race may be directed to: Colleen Graham: 715-558-3008. If you need to contact me while you are in Hayward, please dial: 608-219-4464.

Following the event, please know that the Fifth District is providing a hot soup luncheon for you to enjoy. Make your way to the Veterans Community Center, 10534 Main St, Hayward, WI 54843, where members from Idun and Norse Valley Lodges will be eager to greet you. The committee asks that you plan to arrive by 2:00 PM so they have sufficient time to clean the space for the next incoming group.

Next week's weather forecast is favorable for travel and for the event which annually attracts between 600-800 children from locales far and wide. If you are interested in seeing the racers begin, the starting line is behind Hayward Elementary School. Please plan to arrive by 10:45 to get a good position along the route. If you have a cowbell to ring, please bring it; that adds to the excitement!

Festivities continue at the end of the race in the Celebration Tent located in downtown Hayward. Fifth District volunteers and their guests will be thrilled to see all who need a tasty treat. International Director Robin Fossum will lead the charge! Thousands of cookies will be distributed along with hot chocolate provided by Swiss Miss.

*If your lodge is sending cookies to the event, please attach the cookie call sheet found on the District 5 website to record the total number of cookies your lodge is sending.

Finally, I would like to thank you in advance for your service and for the efforts that many lodges made to prepare cookies for the Barnebirkie.

Cheryl
Cheryl Wille-Schlesser
D5 Sports and Rec. Director
rogrcher@mhtc.net
608-219-4464
2020 American Barnebirkie Ski Weekend
The 2020 American Birkebeiner Ski Weekend is almost here! Join members from across District 5 as we celebrate children in a ski race designed especially for them.
Options include races at .5 km, 1 km or 3 km.
Each year, these youngsters dress festively for the race in costumes, ballerina tutus, hunting gear, or other flashy attire. It is quite a sight at the starting line, trust me, and what great fun it is to watch the racers go! Our own Jorgen the Troll dons his costume, and he waves to the skiers as they begin their trek toward the Celebration Tent. Will Olaf and Tinky Winky return for this year's race? Only time will tell.
The Barnebirkie is scheduled to be held on Thursday, February 20, 2020
with an approximate start time of 11:30 AM behind the Hayward Elementary School. All Fifth District Sons of Norway Lodges are encouraged to provide cookies for the event. Lodges may opt to bake their donations or purchase them from a local provider. The District 5 cookie goal is 1,000 dozen cookies. Uff-da! Ja, you betcha! Dat's a lot of cookies! The only thing we ask is that you
do NOT use nuts
of any kind in your cookies due to allergy concerns.
*The 5th District Cookie Contest returns this year. The Lodge that submits the highest cookie count will earn $50.00. How to spend it is your decision!
Workers are also needed in the cookie tent to hand out treats to the skiers' families. Please send me an e-mail, if you or other members of your lodge can assist the 5th District by working in Hayward.
This is an outdoor activity; please dress warmly and wear boots.
Cookies will be taken to Hayward from southern Wisconsin on Wednesday, February 19th or earlier that week, if inclement weather is forecast. Mary Bennett and Cheryl Wille-Schlesser
can collect your cookies in the Madison area. They are also willing to pick up cookies along the route, I-90-94, through Eau Claire and northbound to Hayward.
One may contact Mary at: 608-628-2247 or 608-837-8335. Cheryl's cell number is 608-219-4464.
NOTE:
Volunteers should know
that a reservation for dinner has been made at the Steakhouse and Lodge, 15860 T Bone Lane, Hayward, WI 54843 for 6 PM Wednesday evening, February 19th. Individuals pay for their choice of meal. Further information about job assignments, obtaining nametags, or credentials and a briefing from the crew chief, Eileen Timmerman, will occur.
Those who are willing to work in the Celebration Tent need to register this year. To volunteer, go to www.birkie.com/volunteer.
Type the password,
barne2020finish
into the box that is provided. A dropdown option will appear for Sons of Norway volunteers. Currently 9 worker slots remain.
On behalf of the 5
th
District, takk for hjelpen oss,
Cheryl
---
2019 Barnebirkie Report

Expo Center-Hospitality Table
Mary Bennett-Idun Lodge
Asta Blanchar-Idun Lodge

Expo Center-Masse Moro
Sandy Olson-Valkyrien Lodge

Barnebirkie Registration and Start
Bill Hendrickson-Nordland Lodge
Arlene Watrud-Krueger-Vennelag Lodge
Cheryl Wille-Schlesser-Vennelag Lodge

Cookie (Celebration) Tent
Victor Bekkum-Dovre Lodge
Bill Bosak-Dovre Lodge
Robert Fossum-Dovre Lodge
Audrey Halvorsen-Valkyrien
Audrey Severson-Valkyrien Lodge
Judy Keilholtz-Dovre Lodge
Clair Severson-Valkyrien Lodge
Diane Overby H R Holand Lodge
Alton Staff-Trygvasson Lodge
Don Overby H R Holand Lodge

District 5 Luncheon
Sharon Anderson-Idun Lodge
Judy Ghastin-Norse Valley Lodge
Lucy Ghastin-Idun
Hild Petre-Idun Lodge

The following lodges contributed to our cookie total of 921 dozen:
Dovre, Nordland, Ulseth, Elvedal, Norseland, Vakkertland, Grønnvik, Norse Valley, Valhall, Idun,
Polar Star, Valkyrien, H.R. Holand, Skjold, Vennelag, Løven, Solvang, Wergeland, Mandt, Trygvasson

Musician at the Expo- District President, Andrew Johnsen, Scandiana Lodge
Ski Partrol for the Barnebirkie - Nancy Kjostad Imm, Ulseth Lodge
Musician at the Cookie (Celebration) Tent- International Director, Robin Fossum, Dovre Lodge
2019 Barnebirkie updates and additions!
The following lodges sent monetary donations to the District 5 Treasurer, Mike Palecek, in support of the 2019 Barnebirkie (Children's Ski Event): Askeladden 5-610, Cleng Peerson 5-525, Edvard Grieg 5-657, Fosselyngen 5-082, Myrmarken 5-609,
Nordland 5-544, Nordkap Lodge 5-378, Scandiana 5-600, Viking 5-625,
Omitted from the list of lodges who contributed cookies were:
Nordlyset Lodge 5-183, Norsemen of the Lakes 5-650

Tusen takk til alle for hjelpen,
Cheryl Wille-Schlesser
District 5 Sports and Recreation Director
rogrcher@mhtc.net 608-219-4464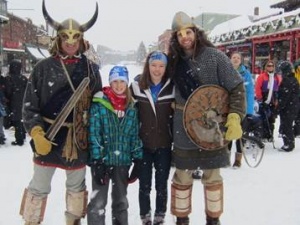 Birkie Fever
Caution! Birkie Fever is catching!
Whether they come by truck, car, or plane, Hayward, WI will soon host skiers from around the world for the Greatest Show on SNOW-The American Birkebeiner. The 2019 Barnebirkie event will launch the festivities on Thursday, February 21st. The kids' route will return to the golf course behind the Hayward Elementary Campus. Registration will occur at the big tent just off 5th Street, where skiers will pick up their bibs and hats. Participants in the Barnebirkie are between the ages of 3-13.
The Barnebirkie has been long supported by the Sons of Norway 5th District. Each year our members provide cookies by the thousands to ski families at the Celebration Tent in downtown Hayward. Our volunteers also assist with the ski registration, serve a hot lunch to our volunteers, play music at the VFW canteen, assist the classic skiers at the Expo, and fulfill other requests made by the Birkie Office. You will recall that our District was awarded the 2018 Shellie Milford Spirit of the Birkie Award for our unwavering support. 2019 will be no exception, and due to the loss of some workers we are needed in earnest!
BRING ON THE COOKIES!
The District 5 Board recently approved an incentive to Lodges for their baking efforts. Lodges are asked to gather their members for a Baking Day which will benefit the Birkie event. Take pictures of your efforts for posting on the District 5 website or on the D5 Facebook page. The Lodge that sends the most cookies to the event will be awarded a $50.00 prize. In order to determine the winning lodge, it will be necessary for your lodge to label the boxes you send with the number of dozen per box OR your lodge's president can send a tally sheet indicating the number of cookies (dozens) donated. A clipboard will be available in the cookie tent for any lodges delivering cookies to the tent that day.
One objective of the Baking Day is to create fellowship among your members, and it would be a great activity to welcome any new members into your fold. Lodges can incorporate specialized Norsk varieties of cookies that your lodge could later use at another event. This activity would also help your lodge to meet, in part, the Mission of the Sons of Norway, of promoting and preserving the heritage and culture of Norway. By doing so, your members would additionally earn credit toward a cultural pin! For more information on that pursuit, go to SofN.com: Select Cultural Programming and choose Cultural Skills. Traditional Norwegian Cooking requirements will be outlined. You will find the requirement for Baking and Desserts listed. Download the paperwork needed for this exercise, and you are on your way. Lykke til!
CAUTION-Due to the many individuals who have been diagnosed with allergies to tree nuts and peanuts, please DO NOT use them in your baking.
The classic skiers have also made a request for healthy cookies! Providing a spice cookie such as cardamom, molasses, ginger, pumpkin, or a fruit option would be fantastic. Oatmeal raisin cookies are popular, too.
*Additionally, some lodges choose to purchase cookies made in a controlled environment which is free from allergens. After discussion at the Board level, all cookies contributed will be entered into the prize contest.
Lodges that wish to send a support check for this event, should make it payable to the Sons of Norway-Fifth District. Mail it directly to the District 5 Treasurer, Michael Palecek: 5747 Sandy Lane, Racine, WI 53406. Indicate on the memo line of your check, Barnebirkie, so your lodge can also receive recognition.
If you would like to help us at the Barnebirkie in Hayward, WI, please select your area of interest from the options listed below. Send your interest to District 5 Sport and Recreation Director, Cheryl Wille-Schlesser: rogrcher@mhtc.net, or contact me by phone: 608-219-4464. I will begin organizing a service record for this event.
Options for Service:
1) Assist with the set-up, serve food, and assist with clean-up at the District 5 canteen, if needed (inside activity)
2) Play live music in the canteen. (inside activity)
2) Meet and greet skier families, hand out cookies, and clean-up the tent area thereafter (outside activity, dress warmly and wear boots)
3) Deliver remaining cookies to the Ski Expo following the cookie event in downtown Hayward (deliver using your vehicle-carrying involved)
4) Register Barnebirkie and Junior Birkie skiers at the 5th Street tent (computer work, outside activity, dress warmly and wear boots)
5) Hand out medals in downtown Hayward, if needed (outside activity, dress warmly, wear boots)
6) Other area of service, please indicate.
An organizational meeting will be held on Wednesday evening, February 20th, at 6 PM. When the destination has been secured, an e-mail will be sent. The meal cost is your responsibility. Any special announcements will be made, job assignments will be announced, and nametags will be distributed. Please try to attend, if you are in town on Wednesday evening.
*Make your reservations for lodging now, as rooms are often limited!
Thank you for your willingness to serve.
Cheryl
District 5 awarded the Shellie Milford Spirit of the Birkie Award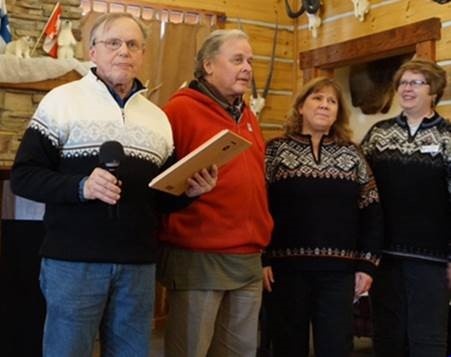 District 5 earned the Shellie Milford Spirit of the Birkie Award for over 30 years of service to the Foundation. Members from many District 5 Lodges assist with this worthy event each year. Their jobs include: baking thousands of cookies, registering children for the Barnebirke ski event, serving cookies to young skiers and their families, and helping to move materials across Hayward as needed.
In addition, other members meet and greet classic skiers at the Expo Center, and they distribute Sons of Norway materials. Cookies are donated to guests, but being frugal Norwegians, there is a charge for a good cup of coffee! Other members are involved in planning and preparing a luncheon for Birke volunteers and for the Ski Patrol staff.
We are proud to represent District 5 and the Sons of Norway each year as the Nordic lifestyle is celebrated in the Midwest. The American Birkebeiner has had participants from 49 states and 36 countries over the course of its operation.
Respectfully submitted,

Cheryl Wille-Schlesser
District 5 Youth Director