2020 Lodge Banner Contest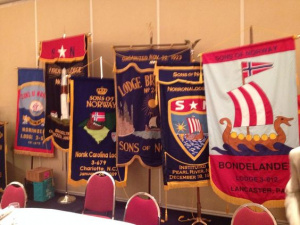 The District 5 Board of Director's would like to encourage each lodge to create a Lodge Banner to display for publicity purposes during their lodge events, conventions, etc. To maintain a standard for the Lodge Banners, we have provided some specifications below.
We encourage each Lodge to participate in this contest and display (on their own banner stand) their Lodge Banners at the 2020 District 5 Convention in Madison, WI where they will be voted on by convention attendees. There will be two categories: commercial or hand made.
If your lodge already has a Banner that meets these specifications, please bring it to the Convention. Three prizes will be given based on convention attendees votes.
'People's Choice Over All' gift card (monetary amount to be determined)
2 'Honorable Mention' [one for Commercial and one Lodge/hand made] gift card (monetary amount to be determined)
Lodges look at what other Lodges have made for your lodge idea.
Additional handouts to help will be found on the D5 Website:
Banner Specifications
Suggested Size between 2 ft x 3 ft up to 3 ft x 6 ft.
Hang banner vertically on a 1" diameter wood dowel with 2 eye screws (one on each end) for hanging purposes.
A Base stand to hang the banner
Material: Any material except paper (drapery fabric works well).
Lodge name appears somewhere on the banner
Banner theme relates to the individual lodge.
Banners can be made in any color.
Banners will belong to their lodge, but will be displayed throughout the District Convention.
Questions can be directed to:
Karen Eberhardt, District 5 Publicity Director
eber01dj@gmail.com or cellphone 608-577-5906
For a downloadable / printable version, of this 2020 Lodge Banner Contest information, click here.