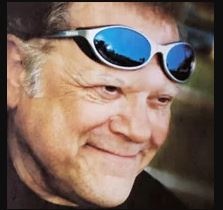 In Memory of
Nicholas Peter Baldukas
RACINE - Nicholas 'Nick' P. Baldukas, 70, passed away peacefully on Saturday, January 12, 2019 surrounded by his loving family and friends. A lifelong resident of Racine, he was born on April 21, 1948, son of the late Peter Nicholas and Gladys (Kanyuh) Baldukas. Nicholas was a graduate of Wm. Horlick High School "Class of 1966." His working career was primarily at Twin Disc, where he ushered in Computer Numeric Control (CNC) manufacturing. During his 21 years there, he continued studying engineering, attending Bradley University, UW Parkside, Carthage and numerous workshops and seminars at major manufacturers around the US. He also worked at Styberg Engineering before switching careers to land development and general contracting. He designed and developed Mallard Shores on property he and his wife owned surrounding Halter Lake.
Nick loved his new career and continued designing and building high end homes in southeastern Wisconsin, until illness required him to retire.
In 1985 he married Dr. Ann-Mari (Ingebrigtsen), his soul mate and loving companion. Together they pursued their common love of tennis, hiking, skiing, travel and spending time at their lake home on Castle Rock Lake where he developed lasting friendships, especially with Dave and Karen Janssen. He loved taking off on road trips throughout the US and going to Norway to meet with Ann-Mari's family and friends. Nick loved speed, whether driving his corvettes on deserted country roads or speeding over Lake Gogebic on his snowmobile with Ann-Mari urging him to go faster. He shared his love of motorcycles taking grandson Morgan and son Peter on motorcycle trips, or exploring wide swaths of the US, riding next to his special friend, Gary Grissom. When it came to going fast, Nicholas was very competitive. A good example is his jet ski race with a friend on Castle Rock Lake, when lo and behold his friend out ran him. The very next day the garage was strewn with jet ski parts and Nicholas was hard at work engineering a faster ride. And he succeeded, leaving his friend in his wake during the next day's "friendly race." Nick's lifelong friend Dale Zierten, some years ago invited him to join a group of early school friends for coffee and discussions of the past. He loved meeting with his morning coffee buddies.
Nicholas was an active hands on father/grandfather, who coached his sons softball team and attended multiple sports events to cheer on his children and grandchildren. These events included t-ball, soccer, swimming, tennis, track and basketball. His reputation for being able to fix anything, resulted in late night calls from the children's friends with car trouble on the interstate. He always came to their rescue.
Nick was an active member of the Greek Orthodox Church, an altar boy as a child, working the annual festival and serving on the church council for many years, as the treasurer. He was a member of Twin Disc Twenty Year Club, Kiwanis, a two time past president and Lt. Governor, Sons of Norway, where he also was past president and member of District 5 Board of Trustees.
His joviality, zest of life and desire to be of help to family and friends, were hallmarks of his personality. Nick had a true love for the outdoors and enjoyed hunting, hiking and swimming. He was a hard working, dedicated man, who always gave life his best. He had a love for the outdoors, his family, his pets and for life. Here was a person who probably wouldn't say "there was something I wish I had done." Nicholas and Ann-Mari enjoyed hosting parties on their beautiful covered porches, especially the annual Sons of Norway Picnic, the September Multiple Myeloma Support Group Picnic and as well as family cookouts, with swimming, fishing, horseshoes and trampoline.
Nick is survived by his beloved wife of 33 years, Ann-Mari and their children, Dana Baldukas, Pamela (Andrew) Patch, Nicole (Jonathan) Eckblad and Shane (Victoria) Peirce; grandchildren, Dr. Thomas (Shvaughn) Paulick, Daniel (fiancé Alexis Jensen) Eckblad , Ariel Harrington, Amanda Eckblad, Petra Harrington, Cassidy (Scott Schindelar) Crowell, Morgan Patch, Megan Patch and Peter Eckblad; great grandchildren, Kenneth, Declan and Brynn Paulick, Chase and Brecklyn Peirce, Atlas and Isle Schindelar, and Rylee Lempke and Alexandra Eckblad; sisters, Vivian (Tony) Merlo, Sharon Baldukas and Demetra Baldukas; sister-in-law, Randi (Aage Breiby) Ingebrigtsen of Norway. He is further survived by a Goddaughter, Xanthi Merlo, a special nephew "son," Kristian (Lynn) Wergeland Digranes, who is a Park High School graduate and he also attended Gateway Technical College and UW Parkside before returning to Norway where Kristian is currently a canine police officer in Oslo. Nick is further survived by many nieces, nephews other relatives and many dear friends.
Nick was preceded in death by his son, Peter Nicholas Baldukas on November 29, 2004.
Funeral services will be held at Kimissis tis Theotokou, Greek Orthodox Church, 1335 S. Green Bay Road on Monday, January 21, 2019 at 10:30 a.m. with Rev. Fr. Athanasios Pieri officiating. There will be a visitation at Sturino Funeral Home on Sunday evening from 4:30 p.m. to 7 p.m. with Trisagian Prayers at 7 p.m. Nick will be laid to rest next to his son at Graceland Cemetery following services.
In lieu of flowers or those wishing to remember Nick in a special way - donations to the following have been suggested: Kimissis tis Theotokou Church, Multiple Myeloma Research Foundation
https://themmrf.org
, National Kidney Foundation
https://www.kidney.org/support
&
https://www.kidney.org/transplantation,
Sons of Norway District Five
www.sonsofnorwayracine.com/index.html,
Contact Mike Palecek, 262-886-5547, Kiwanis Club of Racine
https://www.facebook.com/Kiw
anis-Club-of-Racine-170911539484
A special heartfelt thank you to Aurora St. Luke's Hospital and Aurora Zilber Family Hospice for their exceptional doctors and staff. Nick was blessed to be in their care.
We're sure you all will remember Nick's famous optimistic words
"I never had a bad day in my life."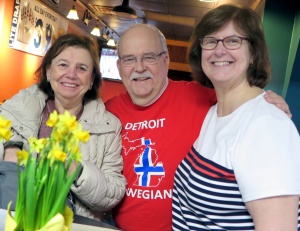 Lodge of the Month Nordkap 378
Photo: Marge Sorensen (left) with Nordkapen editor Bob Giles and Carmen Collins, who succeeds Marge
In Appreciation of Marge Sorensen, Stepping Down as Treasurer
By Louise Giles
We often heard that no one is irreplaceable.
Yet that's often how I've thought about Marge Sorensen, who's stepping down after some 20 years as Nordkap treasurer.
I know Marge personally as a friend and great resource for our lodge, always cheerful, upbeat, fun-to-be-with, and ready to lend a hand.
But as treasurer, Marge has endlessly paid our bills, balanced books, prepared reports, filed required forms, counted receipts, reimbursed expenses, and researched complex financial questions, often working well into the night to keep Nordkap's finances up to date.
She did all this while also volunteering like other lodge members to cook, serve, and help clean up at many lodge events, like the Steak and Corn roast, Scandinavian Market, Midsummer Celebration, 17th of May, and regular monthly meetings.
Beyond that, she's served in years past as editor of our newsletter and a Nordkap delegate to the 5th District Sons of Norway convention; shopped for food for lodge events and stored it in her freezer; single-handedly prepared and served a special luncheon for Nordkap's more senior members; and attended and hosted countless Board meetings at her home.
Marge handled all her Nordkap duties with the same professional demeanor she showed in her business career, first as a salaried employee at Ford Motor Company, then as a travel agent, when she guided clients to dream vacations around the world. Marge was always the person you wanted to tell you where to go!
She's a great traveler herself—exploring far afield, often with family members, to places like China, Budapest, and Russia, to name but a few. With her late husband Pete she was a member of the Players Guild of Dearborn, where she handled costumes for the amateur thespians.
Besides Nordkap, Marge's been an active member of the Finnish Center Association, the Swedish Club, the Jenny Lind Club, and Scandia, the Swedish women's chorus. She's a mother and a grandmother. And she's proven many times over the truth of the old saying, "If you want something done, ask a busy person to do it." We asked a lot of Marge, and she always delivered. We are fortunate that she plans to stay active in our lodge. And we are equally fortunate in the talented person our Board has chosen to become our new treasurer: Carmen Collins.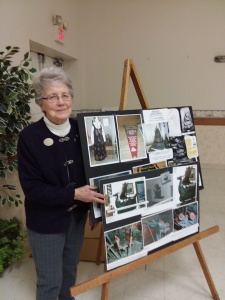 Lodge of the month Fossellyngen Lodge
Fossellyngen Lodge Member Shirley Engelman spoke to lodge members on the disposition of Norwegian books and cultural artifacts, upon the closing of the Norway House in Milwaukee. All of the items are now safely in worthy places.
Article submitted by Daryl Wunrow, Lodge Historian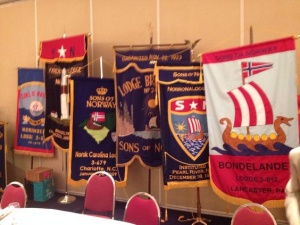 Lodge Banner Contest
The District five Board of Director's would like to encourage each lodge to create a Lodge Banner to display for publicity purposes during their lodge events, Conventions, etc. To maintain a standard for the Lodge Banners, we have provided some specifications below.

We are encouraging each Lodge to participate in this Contest and display their Banners at the 2018 Convention where they will be voted on by the delegates.
If your lodge already has a Banner that meets these specifications, please bring it to the Convention. Three prizes will be given. (1) $100.00 "People's Choice" gift card and (2) $50.00 "Honorable Mention" gift cards.

If you don't have time to create a Banner by the end of June, look at what other Lodges have made for idea's.

Banner Specifications
1. Suggested Size: 3' x 6' finished banner.
2. Hang banner vertically on a 1" dowel with 2 eye screws (one on each end) for hanging purposes.
3. A Base to hang the banner
4. Material: Any material except paper.
5. Lodge name should appear somewhere on the banner.
6. Banner theme should relate to the individual lodge.
7. Banners can be made in any color.
8. Banners will belong to their lodge, but will be displayed throughout the District Convention.

Questions? Contact District Publicity Director, Christina Fairchild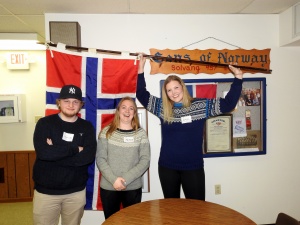 Lodge of the month: Solvang Lodge 5-457
Solvang Lodge 457 met at the Bekkum Library Community Room on February 27, 2018 with a lively 56 people in attendance. After a business meeting was called to order by Cedric Veum the lodge chose delegates, Cedric Veum, Roger Hanson and Ruth Amundson to attend the 5th District Convention to be held at the La Crosse Center
June 27-30, 2018
. Wergeland Lodge 28 from La Crosse will be hosting the convention with the help of Solvang Lodge. Their Pot O'gold was won by Larry Leum. Ruth Amundson had a fun quiz for the members about cities in Norway. Their program for the evening was presented by Emma Christin Svendsen, Maiken Maeland Vigre and Herman Henrksen from Norway. They were happy participants in the Student Exchange Program while in High School here and have chosen to return to the USA to attend UWL (University of Wisconsin- LaCrosse) at this time. They shared stories and pictures of their lives, favorite foods from Norway and experiences living here. The members enjoyed visiting with this friendly group while lunch was served by Dave and Jan Dregne and Larry and Rachel Strangstalien.
David Torgerson (Photographer)
District 5 Leaders…Did you know that there is a place you can turn to for program ideas for your Lodge?
An easily accessible resource provides a compiled list of presenters for Lodge leaders to assist with their monthly meetings. It is located under the Programs Tab at the top of District 5 webpage: www.sonsofnorway5.com
This resource will become more powerful as local lodges submit the names of recent presenters to Richard Fairchild, our webmaster, for posting!
Speaker names that you would like to share should be directed to Richard at: inputd5@sonsofnorway5.com.
*** Note: Please consult with the individual(s) before forwarding their personal information.

As the Chair of the Fraternal Affairs Committee, I am asking all District 5 Lodges to provide the District with a list of 3 speakers your lodge has welcomed over the course of the past 1.5 years. These additions will be added to the existing list, strengthening programming for all. We ARE stronger together; please help your fellow lodges provide quality experiences to their members.
Thank you,
Cheryl Wille-Schlesser
Chair, District 5 Fraternal Affairs Committee
The first one is of Dr. Greg Martin demonstrating how Grieg took a folk tune (first piece played) and them embellished it into a new composition (second piece played).
Circle City Lodge member Roy Samuelsen singing "Jeg elsker deg" or "I love you" to his wife of 61 (next month 62) years, Mary. There many emotional tears on the cheeks of more than one person in the audience during this song!! Enjoy!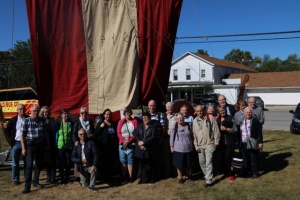 Cleng Peerson 5-525 Lodge of the month
On Sept. 28th, Cleng Peerson # 525 in Norway Illinois, was visited by an genealogy tour group from Norway. The group was in the United States for two weeks and ended with a two day stay in Salt Lake City, Utah. While in Norway Illinois, the group visited The Norsk Museum, the Cleng Peerson cemetery and the Norway cemetery. The group finished up at the Norway store before heading to the Norway Community Building for a luncheon made by Cleng Peerson lodge members. Go to the Photo Gallery to view additional pictures.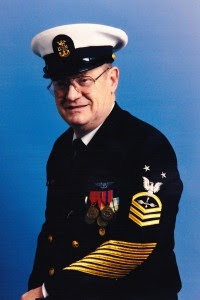 In Memory Of
Past District 5 Board Member and Publicity Director
Kenneth Eugene Nyland
, March 23, 1933 - July 2, 2017
A Celebration of Life Service will be held at
11:00 AM
on
Thursday, July 27, 2017
at Shepherd of the Hills Lutheran Church, 506-12
th
. Avenue, New Glarus, WI. Friends and family may attend a visitation from
4-7 PM
on Wednesday, July 26, 2017at Ellestad Camacho Funeral Home, 500 N 8
th
Street, Mt. Horeb, WI.
Kenneth Eugene Nyland, age 84, passed away in peace on Sunday, July 2, 2017 at Agrace HospiceCare. Ken was born on March 23, 1933 in Madison, WI.
In 1991, Ken retired from IBM after 25 years and from the U.S. Navy after nearly 40 years of proud service to his country. One of the highlights of his career in the Navy was meeting five of the original six astronauts, and being present for the recovery of astronauts from two Mercury missions. Through hard work, he rose to the rank of Master Chief as he circumnavigated the globe from the Mediterranean to Japan to Hawaii to Bermuda. Many friendships he made while in the service lasted his lifetime. At home, Ken loved spending time with family and attending as many of his children's and grandchildren's functions as possible. He got a kick out of traveling to visit his wonderful family and friends. He enjoyed talking sports and politics with anyone. If you were willing to hear the answer, he would always tell you what he thought, and he was no-nonsense about it. Over the years, Ken was involved in many community roles. Some of these were being Municipal Judge, belonging to local organizations, VFW, American Legion, Sons of Norway, AFS, and more. In 2015 Ken was able to participate in the Badger Honor Flight out of Madison. Ken was honored and thrilled with the trip and felt blessed by the respect shown everywhere to him and the other veterans. In February, this year he was overjoyed when his AFS daughter Adelle and her husband Aren were able to visit from Guam. Then, in April Ken and family were able to have family photos taken. It was a beautiful day and Ken delighted in sitting and talking with everyone.
Ken is survived by Carol, his wife of 53 years, son: Greg (Patricia) Wickersham, daughter: Amy (Tom) Nyland-Schmook and four granddaughters: Valerie (Dale Miller) Klitzke, Cassie Wickersham, Tamara Schmook, and Erica Schmook, one great-grandson, Bode Miller, and his sister Patricia (Jerry) Raether. He is also survived by his AFS daughter Adelle (Aren) Palik and their children, Sonja (Eddie) Musrasrik, Ryan Palik, Lloyd Palik, and Jason Palik.
A Celebration of Life Service will be held at 11:00 AM on Thursday, July 27, 2017 at Shepherd of the Hills Lutheran Church, 506-12th. Avenue, New Glarus, WI. Friends and family may attend a visitation from 4-7 PM on Wednesday, July 26, 2017at Ellestad Camacho Funeral Home, 500 N 8thStreet, Mt. Horeb, WI. Memorials may be sent to Shepherd of the Hills Lutheran Church, New Glarus, where Ken and Carol were Charter Members. July 14, 2017 by Cristina & Diego | Filed under Obituaries. www.camachofuneralhomes.com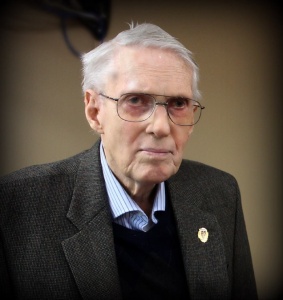 Featured Valhall Lodge Member
Read Kris Garmanger story below -
A lifetime with Valhall
In the year 1925 I was born in the village of Roros, Norway, a copper mining community in South Trondelog Province. This little town is now a United Nations heritage site, which means that the outward appearance of the town cannot be changed. It has an 18th century appearance, dominated by an old church, well known in Norway.
At the age of three, I accompanied my mother as we emigrated to America aboard the Bergensffjord, one three identical passenger ships. My father met us in Chicago and we took up residence on Parmele Street in Rockford. Before long we were also established as members of Valhall Lodge in the Norwegian-Danish church.
My parents immerse themselves in the activities of the Lodge frequently taken meet with them. Meetings were held and Tegner Hall on Fourth Avenue, a big wooden building with a large meeting room where we had dinner, danced around the Christmas tree and presented plays by Ibsen. Later, the Lodge bought a property on the Kishwaukee River, and put up a rustic building of our own. On hot Sundays we went there for picnics. The men gathered around a wooden stand and cooled off with icy beer. My buddy, Reidar Gundhus, and I consumed ice cream and pop, but with money that we got from our mellow fathers. This place, that we called"the land" was taken from us, presumably to become a National Guard airbase, which never actually materialized. My father, was all so involved in the Harmony Singing Society, worked hard on behalf of Valhall, and eventually was elected National President of the Lodge and its approximately 25,000 members.
As we all do, I grew up, and serve during the Great War. A return, went to college, and became a teacher in a western suburb of Chicago, but I retain my membership and the Lodge. During those years I belong to the Chicago codfish club. Is there anything better than boiled torsk with potatoes and melted butter? We met regularly in the corners of the Chicago Norway club, a more professional organization.
Upon retirement, my wife and I moved back to Rockford. She was of Swedish ancestry, and grew up in the same general neighborhood - Broadway, 11th St., 7th Street, and Illinois Central tracks. Almost immediately we throw ourselves back into the activities of the lodge. In order to have a house of our own for our meetings and dinners we moved into a former church in the Machesney Park area, and furnished it very nicely to give it a Norse atmosphere. I had the privilege of being speaker or master of ceremonies on various occasions. One of the most enjoyable experiences for us was the reading group. This had been established by Rev. Wang, who served as our manager whenever his busy life permitted. Our readers, including Margaret Dahlgren, Clare Almquist, Herman and Marge Johnson, Jeanne Koplas, Iolyn Beers, and other devoted members of the Lodge.
Our years in this beloved little slice of Norway came to an end, but the Lodge itself, the people both old and new, who are the heart and soul of our fraternity, continue to embrace the Norwegian and American ideals that we have cherished for over 100 years.
Kris Garmanger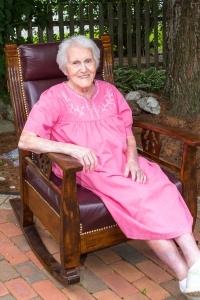 Featured Lodge Samhold #5-473 Member Elizabeth 'Betty' Jeskey celebrates 101st Birthday
The rocker chair Betty is sitting in was the same chair she had been rocked in as a young child.



Betty's Story as it appeared in the Samhold Lodge April newsletter.

Elizabeth Lee Haugan (means hill), was born at home near Fosston, Minnesota on March 23, 1916.
She was the third and last child of Matthias Evald (known as Evald) and Clara Haugan.

Evald was born in Norway in 1858 and raised on the family farm.
The farm--which dates back to 1593--was in Botne; near Holmestrand, Norway.
He emigrated to the United States in 1887 and became a U.S. citizen in 1898. He claimed to be a farmer of his 151 land-granted
acres but he was more noted as a traveling salesman. When his first wife died -- leaving him with 6 children to raise -- he notified some
relatives in his native Norway.

As a result, Clara Lie (a banker's daughter from Bergen) agreed to come to the United States for 2-years to help him with the children.
Evald and Clara ended up marrying within 2-months of her arrival in 1912. Clara longed for her homeland and was never truly happy in the
United States. Even though she could understand and read English, she never spoke it. Clara and Evald had disagreed about purchasing some
additional acreage on credit; consequently, they lost the farm during the depression. Evald died while Betty was still a teenager.

At 20 years of age, Betty and a girlfriend went to Duluth and then to Minneapolis to work. They worked as domestics (nannies) and as
waitresses. In 1939, they both went to Detroit where Betty's brother Olaf lived. While in Detroit, she started going by the name of
"Betty". It was there that she met and married Raymond Charles Jeskey in April 1939. He was a machinist and a musician. He often played with
local big bands. It is believed he met Betty while on one of those gigs. Betty worked as a bookkeeper, even while their son and three
daughters were growing up. Raymond and Betty were married for over 50-years. They enjoyed researching genealogy and were avid square
dancers. Betty also did cross-country skiing and was a skilled crocheter.

Their family of four children has now grown to include: 9 grandchildren, 13 great-grandchildren, and 2 great-great grandchildren. Most of them attended her 100th birthday party held in Chesterfield, Michigan on March 20th, 2016. Three family members have died: Her husband and their daughter Clarice died approximately six-months apart during the early 1990s and a granddaughter was a victim of a drunk driver.

Ever since childhood Betty has longed to explore the world...and she has. Her extensive travels have taken her to four continents. Besides
North America, she has been to South America, Australia, and Europe.

In the 1990s, she along with her daughter Romaine traveled to Norway and Germany to visit relatives and to sightsee. Her wanderlust was
evident even in Detroit; she wouldn't stay put. During her marriage, they moved around 5 times; since his death, she has moved an
additional 6 times. Just maybe, the secret to her longevity is her desire to keep moving.

Permission by her daughter Romaine Jeskey to reprint artilce submitted by Bill Injerd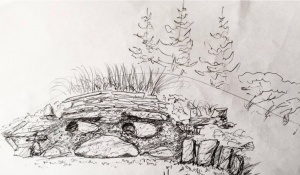 Troll Mountain Project - Update
The latest update from the Mt Horeb Chamber Office…
The George Sievers Memorial named Troll Mountain will be ongoing, with different parts of the project completed in phases. About $22,000
has been raised for this project thus far, and hopes are to break ground this Spring. Meetings with a landowner adjacent to the project have been held. The purchase of additional land will provide space for parking next to the city-owned parcel where the Troll Mountain will stand. Providing the
landscaper completes his designs, and the purchase of land is completed, the project could begin in the Spring of 2017.
The Chamber Office welcomes additional donations, and interested persons may send their donation to: Mt. Horeb Chamber of Commerce, 300
East Main Street, Mt. Horeb, WI 53572. Please send in care of: Melissa Thiesen, Chamber Executive Director. Thiesen may be contacted at
608-437-5914
with any further questions.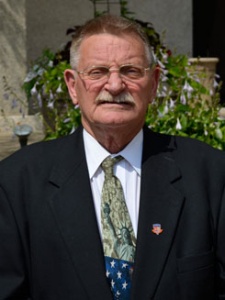 In Memory Of
Raymond P. Knutson, 80, of Davis Junction passed away Friday January 20, 2017 at his residence with family by his side.
Raymond was born on June 13, 1936 in Dunn County, WI the son of Harry and Ruth (Peterson) Knutson. He married Sally A. Junck on February 28, 1959. Raymond was of the Lutheran faith. He belonged to the Plumbers & Pipefitters Local 23 for over 50 years and then became a Building Inspector for Loves Park for 9 years. Raymond taught apprentices the trade at Local 23 for many years. He was a member of the Ellida Lodge where he was Chief for 30 years, he was also a member of the Lithuanian Club, was a lifetime member of the 3 L Club, Harmony Sportsman's Club, Association of Clubs. He was Past President, Treasurer and board member of the Sons of Norway and Grand Chief of the IOV where he served 22 years on the council.
Raymond is survived by his wife Sally; daughter Vickie Knutson; son Steven Robert Knutson; 3 grandsons, 1 granddaughter and 5 great-grandchildren; brother Harlen (Lorna) Knutson; sisters Inez Satter, Sandra (Thomas) Werner and Victoria (Stanley) Cronk; several nieces and nephews.
Raymond was preceded in death by his parents; brothers Oris, Wesley, Gaylon, Delmer and Richard; sister's Marion and Lorraine Knutson.
A service to celebrate Raymond's life will be 11:00 am on Thursday January 26, 2017 at Sunset Funeral Home 8800 N. Alpine Road in Machesney Park. Visitation will be from 10:00 am until time of service on Thursday at the funeral home. Entombment will be at Sunset Memorial Gardens
Ref: Sunset Funeral Home - Jan 23, 2017
____________________________________________

Sons of Norway Valhall Lodge will deeply miss the presence of Ray. He was generous with his time, knowledge and lighthearted Norwegian jokes. He served as our lodge Treasurer, District 5 President, Vice President, Treasurer, Director and ultimately the International Director and Treasurer. One of his more recent offerings was to let the lodge use his "Viking Ship" at the Midtown Ethnic Heritage Parades then the 2016 Midsummer Festival which was enjoyed by several thousand community members.
We send condolences to the Knutson family, especially his wife Sally who served alongside Ray.
Vicki Rudh-Jones, Valhall Lodge President

Our deepest sympathy to Sally and her family as well as Valhall Lodge. I think I am in the same position as many in sharing that Ray was a mentor to many and a dedicated Sons of Norway member and member of numerous other organizations. He was a tireless worker, an honest, fun loving and generous man who loved his heritage, his family, and the organizations that he served. I think he loved all of us too in a very special way- I will certainly miss him and am so appreciative of the help he has given me the past 25+ years I've known him. We sure had a lot of fun together over the years at so many Sons of Norway events. We have truly lost a great resource for our District and a friend to so many. Fraternally, Darlene Arneson, District 5 Secretary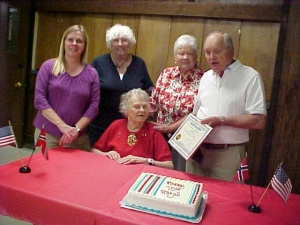 Featured District 5 Lodge Member
Beloved charter member, Hazel Bujak was presented with a 75 year membership pin, certificate and special cake at the June meeting of Sognefjord Lodge #523, Muskegon, Mi. She originally joined Nordkapp Lodge in Detroit in 1941 and had also attended that lodge during her first 18 years with her parents. Also pictured (left to right) are daughter Britta Bujak Portenga, and charter members: Inger Johansen and Carolyn & Einar Ness. Sadly, Hazel passed away August 28th at the age of 93. She was very proud of her 100% Norwegian heritage.Beloved charter member, Hazel Bujak was presented with a 75 year membership pin, certificate and special cake at the June meeting of Sognefjord Lodge #523, Muskegon, Mi. She originally joined Nordkapp Lodge in Detroit in 1941 and had also attended that lodge during her first 18 years with her parents. Also pictured (left to right) are daughter Britta Bujak Portenga, and charter members: Inger Johansen and Carolyn & Einar Ness. Sadly, Hazel passed away August 28th at the age of 93. She was very proud of her 100% Norwegian heritage.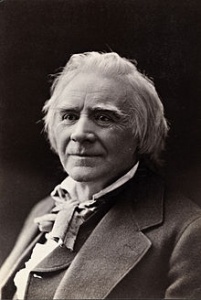 DID YOU KNOW?
Ole Bull was an actual person? Ole Bull was born 'Ole Bornemann Bull' on February 5, 1810 in Bergen, Norway.
He was the oldest of ten children. His parents were Johan and Anna Bull. His father wanted him to become a minister. Ole Bull dreamed of becoming a musician. At the age of four he was able to play all the songs he had heard his mother play on the violin. By nine years of age , he played his first violin in the Bergen Theater orchestra and was a soloist with the Bergen Philharmonic Orchestra. He joined the Musical Lyceum Society at eighteen. He came the director of the Musical Lyceum and the Theater Orchestra in 1828.
Ole Bull married Alexandrine Villeminot in 1836. They had six children. In 1862 Alexandrine died. In 1870, He secretly married Sara Thorp in Norway, the daughter of a prosperous lumber merchant from Eau Claire, Wisconsin. They were formally married later that year in Madison, Wisconsin. Ole and Sara had one daughter, Olea. Sara traveled will him during the remainder of his career, sometimes accompanying him on the piano.
Ole Bull had visited the United States several times. In 1852, he obtained a large tract of land in Pennsylvania and founded the New Norway colony. The land consisted of four communites: New Bergen (now known as Carter Camp), Oleana (named after Ole and his mother), New Norway and Valhalla.
The highest point of Valhalla became the location of his unfinished castle. Today the location is known as Ole Bull State Park in Stewardson, Pennsylvania. Norwegian citizens paid for a monument to honor Ole Bull to be placed in the park on the 150th anniversary of New Norway.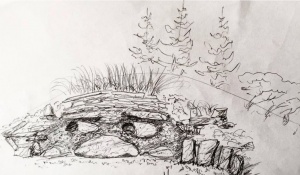 Troll Mountain Project
At the recent District Five Convention and Lodge meeting held in Marshfield, WI a resolution was passed to memorialize George Sievers. George was a past Local Lodge, District and International Board officer. Local Lodges or individuals may wish to support and promote the creation of "
Troll Mountain."
Tax deductible donations can be made to George Sievers Memorial, c/o Friends of the Mount Horeb Welcome Center, 300 E. Main Street, Mount Horeb, WI 53572.
Presented by the Friends of the Mount Horeb Welcome Center
HISTORY
Mount Horeb has been branded the Troll Capital of the World because of the Lee Vogel, Nancy Sievers Vogel and George Sievers Family and we would like to continue that effort. In the1970s, the Sievers family started placing trolls they had imported from Norway out on their lawn to entice visitors into their shop. The trolls caught not only the visitor's attention, but that of passing truckers. According to the Vogel-Siever's family, in the late 1970s, truckers would denote their location to trucker buddies on CB radio by saying " I just passed your mother-in-law on 18/151"-referring to the trolls they had just passed in Mount Horeb.
Here is the TIMELINE the project is currently working with:
Conceptual approval with Sievers family –completed
Planning Commission Approval – completed
Collection of funds ongoing
Grant writing ongoing
With various groups
Fabrication of hypertufa or metal faceplate – fall/winter 2016
Installation and dedication early spring 2017 (weather permitting)
If project does not come to fruition, monies will be used toward additional trolls for Mount Horeb.