Masse Moro Heritage Camp
What is Masse Moro? Masse Moro is a Norwegian Heritage camp with a rich history specifically created with a focus on sharing the history, arts and rich culture of Norway with our youth since 1979. Norwegian language is one of the key components to our program. Campers leave their American culture behind for 2 weeks and participate in daily activites in a hands-on atmosphere learning camp songs, Norwegian vocabulary classes, team sports, and a variety of traditional Norwegian arts, cuisine and Norwegian history.
To learn more about District 5 Masse Moro Heritage camp, visit their website at http://www.massemoro.org.
---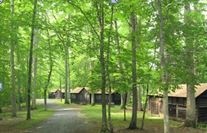 Attention Campers from outside of District 5!
Please check with your respective lodges for information about monies available to support your camp experience. Not all Districts have matching funds, but allocate monies in different ways.
District 1 families may also contact the District 1 Youth Director, @Carolyn Townsend (cjtownsend@comcast.net), for more assistance.