Scholarships from District 5
Sons of Norway District 5 offers a number of scholarships, such as book, International Summer School, and Folk High School scholarships. Download the forms here.
2020 District 5 Book Scholarship
District 5, is pleased to announce that two book scholarships were awarded this year. The first scholarship was awarded to Avery Goth, of the Vennelag Lodge, Mt. Horeb. Avery is a senior at Verona Area High School. She plans to attend University of Wisconsin- Platteville to pursue a career in criminal justice. Gratulerer Avery!

The second District 5 Book Scholarship was awarded to Logan Farrington, of the Nordlyset Lodge in Racine, Wisconsin. Logan is a senior at Union Grove High School and plans to attend University of Wisconsin – Milwaukee majoring in business management. Gratulerer Logan!
Cyril K. Wittrock Recipient 2019
Skjold Lodge, 5-100 is pleased to announce that MeKensey Koran of Myrmarken Lodge 5-609 in Marshfield, Wisconsin was the recipient of the Cyril K. Wittrock Scholarship for 2019. McKensey is attending the University of Minnesota where she would like to pursue a career in dentistry. Gratulerer McKensey!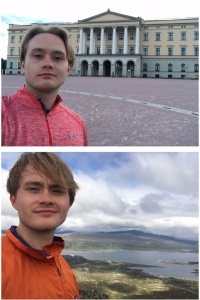 On behalf of the District 5 Board, I am proud to announce the recipient of the 2017 Oslo Summer School Scholarship. The recipient, Jonathan Grinde, is a member of Idun Lodge, 5-074, Madison, WI. Jonathan was also awarded the Olav J. Eide Book Scholarship from Fosselyngen Lodge, 5-082, in Milwaukee, WI.
Jonathan will return to his studies at Carlton College in Northfield, MN in the next few weeks where he will be a sophomore.
Gratulerer, Jonathan, from the "Friendly Fifth" members of the Sons of Norway!
Both pics are from Norway...the top one was taken in front of the palace in Oslo,
and the bottom was from the summit of Bitihorn, a peak in the Jotunheimen mountain
range. I studied Norwegian literature and Scandinavian Government & Politics while
in Norway this past summer.