SAVE the DATE Norse Valley Lodge 5-491 50th Anniversary
Save the Date!
50 year Anniversary Celebration!

Sons of Norway Norse Valley Lodge 5-491

Date: Sunday, July 28, 2019
Place: Liberty Hall
800 Eisenhower Dr., Kimberly, WI

Please plan to join us from 4:00 – 6:00 PM for a reception
with cash bar. View a wide variety of displays and
demonstrations highlighting our rich Norwegian heritage and the Norse Valley Lodge.

Dinner will be served at 6:00 PM

After dinner program by 'The Ladies of the Fjord' featuring Hardanger fiddle music.

*Other surprises are also planned highlighting the history of the Norse Valley Lodge!
Vasa Park Celebrates 65 years
VASA PARK CELEBRATES 65 YEARS
JOIN US ON SUNDAY JULY 22, 2018 TO
CELEBRATE THIS IMPORTANT OCCASION
Everyone is invited and we hope that you will share this information with your members (if a lodge or organization), your friends and family and any other interested parties. It is our goal to fill the Park for this special day, ALL ARE WELCOME
Admission is Free for All
Park opens at 10:30 a.m.
Church Service starts promptly at 11:00
Herring Breakfast will be available starting at 11:30 a.m.(The breakfast cost is $10 per person.Please make your reservation by sending your name and contact information to jlseife@comcast.net.)
Cash Bar will be open at 12 noon.Water and pop will also be available.
Hamburgers and hotdogs will be available for sale by our Boy Scout friends from St. Charles starting at noon.
You are encouraged to bring your own picnic baskets if you choose.
We have plenty of picnic tables but it would be a good idea to bring your own chairs.
Planned activities:

Games for all (hopefully a Kubb game or two)
Dancing
Raising of the Maypole
Entertainment
Campfire
Fot further information and updates:
www.vasaparkil.com
and Facebook
This is NOT Scandinavian Festival. That will still be on

September 9, 2018

. This is a day of celebration and being together.
Please make reservations for the Herring Breakfast prepared by David Anthonsen and company. The cost is $10. You can call Judy at 630.883.8619 or e-mail at jlseife@comcast.net.
Norwegian Ambassador Aas to Speak in Michigan
Gerald R. Ford Presidential Library & Museum
303 Pearl St NW, Grand Rapids, MI 49504

June 12 from 7:00pm - 8:15pm

Attendance is open to all.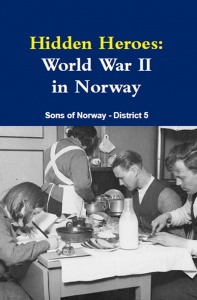 Masse Moro Youth Heritage Camp Fundraiser
Masse Moro is Sons of Norway's District 5 Norwegian Heritage youth summer camp. As a "tussen takk" for your donation, you can get the book "The Hero Next Door: World War II in Norway." These twenty eyewitness accounts told from the viewpoint of children and young adults were originally collected from Sons of Norway members by past District 5 Cultural Director, Jean Bittner.