---
District President's Letter February 2015
Kjaere Venner,
January always seems like a short month, but with reasonable temperatures and some skiing. Again this year Elspeth participated in the Inga Lami held in Minocqua WI on Saturday January 24. She gave a short talk on Inga and on the making of her Greenland outfit in a workshop in Norway.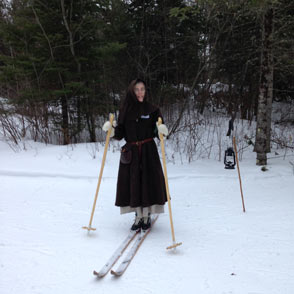 Regrettably Elspeth's skiis warped this last year, so she used some Norwegian wood skiis instead. I will attempt to correct the warp by re-bending the skiis. This year I went along with Elspeth to the Inga Lami, and skied the cookie crumb path by myself.

 Like many people in D5, I participated in a webinar on Thursday January 22. This was my first exposure to the new on line reporting of our volunteer hours to the American Fraternal Association, who uses these numbers to build a case for fraternal organizations non-profit status. I think it is great that the AFA is attempting to make reporting of volunteer hours and expenses easier.

 No doubt our first exposure to these online forms seems somewhat complicated and confusing. This would be a great excuse to contact your zone directors and board members for help. Then you can be amused as you watch us struggle. But kidding aside, I think these forms are made to make reporting easier, faster, and more accurate. To improve the process, please pass your comments on to your zone directors, board members, to me, or to the American Fraternal Association. No doubt with all of us working to improve these forms, in short time we will have a friendly reporting system making at least one aspect of our administrative reporting easier.

Presently Elspeth and I are traveling to see our children and grandchildren. Here is our youngest grand child Harrison helping with this letter.


While in New York City, we went to the Broadway play Matilda.
The play Matilda is Roald Dahl's story of an exceptional young lady named Matilda who uses her exceptional intellect to combat evil intentioned adults to create a better life for her and those around her. My review of the play is "Wow!" Dahl was born in the UK to Norwegian parents, and thus was a Norwegian citizen. Take some time to look up Matilda's story.

This next month will be busy for all of us, both locally and at a District level as we start to prepare for our spring D5 board meeting at the end of March. Let me know if you wish items placed on our agenda for the D5 board meeting. At this board meeting Cindy Olsen and Linda Pederson will visit and brief us on the programs of the Sons of Norway and the work of the Foundation.

March will be a busy month for me with a visit to our lodge in Oak Ridge TN, and then I will be presenting a workshop on bucket making in Lumberton MS.

Have a great February, and go skiing to enjoy the pleasant weather.

Hilsen, Owen
---