---
President's Message Aug 2006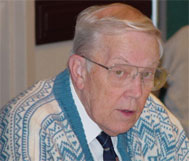 Mange tusen takk to Wergeland Lodge 5-28 for hosting the Fifth District Convention in 2006. Their committees worked for two years and the results were great.
Many good reports were received about the workshops conducted by members of the Fifth District Board. The first Sangerfest directed by Jeanne Julseth-Heinrich was a huge success. Thanks to Jeanne and all who joined in the singing of a Norwegian folk song presented to the convention.
Thank you to all of the committee chairmen and committee members who presented their work to the delegates in a very professional way.
We had some lodges not represented at this convention. You really need to work at sending delegates to the next convention to be hosted by Idun Lodge 5-74 scheduled for Middleton, WI in 2008. It would be wise to raise some money to help with the expense of delegates elected to represent your lodge. This is where Sons of Norway begins its work in governing and changing our order. You can make a difference and should be a part of this effort to continue to make Sons of Norway the greatest fraternal benefit society amongst a large group of fraternal benefit societies
The silent auction was a great success at the 2006 convention. Thanks to an anonymous donor the amount raised was $2721.00, $1.00 more than raised at the 2004 convention. Thanks to George Sievers for entertaining us as the auctioneer.
Seventeen delegates were elected to represent the Fifth District at the International Convention in August. I was selected to be the Chair of the Reports Committee, Audrey Walsh was asked to serve on the Committee on Finance/Investment and Raymond Knutson was asked to serve on the Laws Committee.
At the election of Officers and Zone directors Lela Urness, Zone 1 and Tom Boudreau, Zone 2, Galen Berg, Zone 2, Burton Bittner, Zone 6 were elected to serve from 2006-2008. Audrey Walsh was elected to be the new Cultural Director and Sheryl Hall was elected to serve as the new Youth Director.
Awards presented at the Banquet were Lodge of the Year, 2004 Nordlyset 183 and Fosselyngen 82, 2005-Fagerness 616 and HR Holand 549. A new award, Family Lodge of the Year, was awarded to Wergeland 28. Congratulations to all Lodges winning these awards. Further awards presented were the Founders awards for 2005 for growth in membership. $50.00 checks from International Lodge were presented to Solvang 457, Polar Star 472, Samhold 473, Norse Valley 491, HR Holand 549, Elvedal 556, Norskeland 580, Lincolnland 598, Askeladden 610, Nordlandet 620, Vennskap 622, Vennligfolk 627, Gronnvik 632 and Edvard Grieg 627. This was a much larger group than was awarded in 2004 This means that lodges are working to increase membership in these difficult times for Fraternal Benefit Societies. So keep up the great work!
I am looking forward to working with our new Fifth District Board for the coming two years. We will be facing some new challenges ot Leadership Training, recovering from the expense of our District Convention and sending delegates to the International Convention. We would welcome any suggestions of how to raise money to run our District. The only other choice we have would be a raise in District Dues which was almost mandated by actions taken at the convention in 2006. The work is going on to get a Web site up and running for District Five.
Fraternally,
Harland Anderson 5th District President SON
---